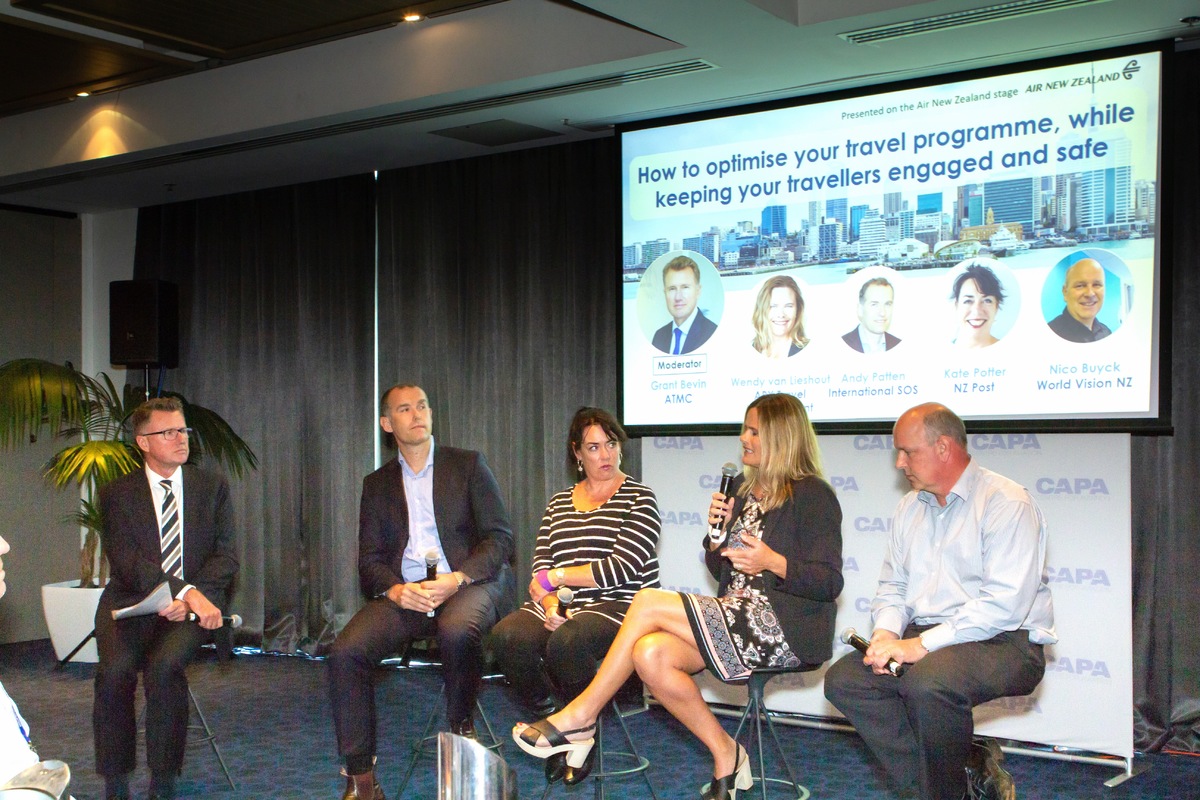 Our GM, Wendy van Lieshout, was recently invited to be part of a panel at CAPA's Corporate Travel Summit in Auckland. The panel's topic of discussion was "How to optimize your travel programme, while keeping your travellers engaged and safe" and the panellists included:
Wendy van Lieshout, General Manager, APX Travel Management
Andy Patten, Director of Travel Risk, International SOS
Kate Potter, Procurement Manager, NZ Post
Nico Buyck, Finance Director, World Vision NZ (APX client since 2010)
We've over-viewed the themes discussed and Wendy's responses during the panel below.
---
How to balance the often-conflicting interests of business travel needs, safety and welfare, and personal traveller demands:
Robust travel policy is imperative. Your policy needs to be dynamic and revisited regularly – it can't be a one-time thing that then sits in a drawer. It's key that travellers & bookers understand the "why" behind the policy and are involved in the development of it. The best policies that have the most engagement is often those that have a balance of flexibility and ownership by the traveller. Policies need to address both the physical and mental safety, and wellbeing of the traveler, include pre and post travel, and an education and feedback cycle that ensures dynamic policy changes and/or enhancements take place when necessary. Employers also need to consider cultural challenges (of both staff and dealing with different international cultures while overseas), and single women travellers in terms of feeling safe etc. This isn't just for international travel but domestic too, although they'll generally have different issues and considerations i.e. connectivity/productivity, use of lounges, WIFI in hotels, ensuring reliable technology is available etc – all of which allows your travellers to be safe and productive on the road.
---
Managed travel, unmanaged travel or something in between?:
As a TMC, of course I'll say fully managed for 2 reasons:
Duty of care: If any elements of the trip are "off-piste" from the travel policy, then travellers can't be accurately tracked and proactively assisted in the event of disruptions or natural disasters etc.
Data: It's very difficult to maximise spend and control costs accurately when not all the data can be obtained. When you're trying to use expense management systems to control costs, it's like the ambulance at the bottom of the cliff – it's too late at that point!
---
As more and more digital natives enter the workforce and seek the freedom to make their own travel choices, what are the wider implications on the organisation's travel programme?:
This is definitely part of the value that a TMC offers. It's up to the TMC to ensure they partner with technology specialists, and that they also have their own development teams to ensure they're ahead of the game. With travel now, TMC's need to be incredibly agile and focused on the diversity of ways that digital natives WANT to interact with us e.g. not only via a booking tool, they may want to use Outlook, voice or even Facebook messenger. That type of technology is already being developed at APX as we speak, and I really see it as the TMC's role to provide these enhancements to customers.
---
How do you deliver cost efficiencies and ensure travellers comply with policy guidelines?:
For cost efficiencies, proactive education is the first step. It's imperative to review the data and then explain the "why" of behaviours to get buy-in from travellers & bookers. It's simple and grass roots but absolutely necessary.
Something we're being asked about more and more is 'Demand Management'… it seems counter intuitive to be asked to encourage our customers NOT to travel, but we're embracing the concept. This does require a strong commitment from the customer, and ideally they have the capability to offer alternatives to travel, such as Skype for Business or video conferencing. What we're doing is using technology to challenge the booker by asking them to indicate the necessity of the trip via a scale at time of booking. This encourages bookers to consider if the trip is essential; or if it could in fact be lumped in with some other upcoming travel, or if the event for the trip could be held by video or Skype instead? These prompts are further supported with an element of visual guilt such as 'This trip will cost $XYZ and has a carbon emission of XYZ). The scale is then reportable and can help identify opportunities to lessen travel and ultimately save costs.  
---
Final point – best advice for a solution to traveller engagement?
Give travellers a voice. Listen to what they say, involve them in the policy build process, ask for their feedback – and then act on it.  APX does this on a regular basis by conducting independent surveys of both bookers and travllers via our partner, Perceptive.