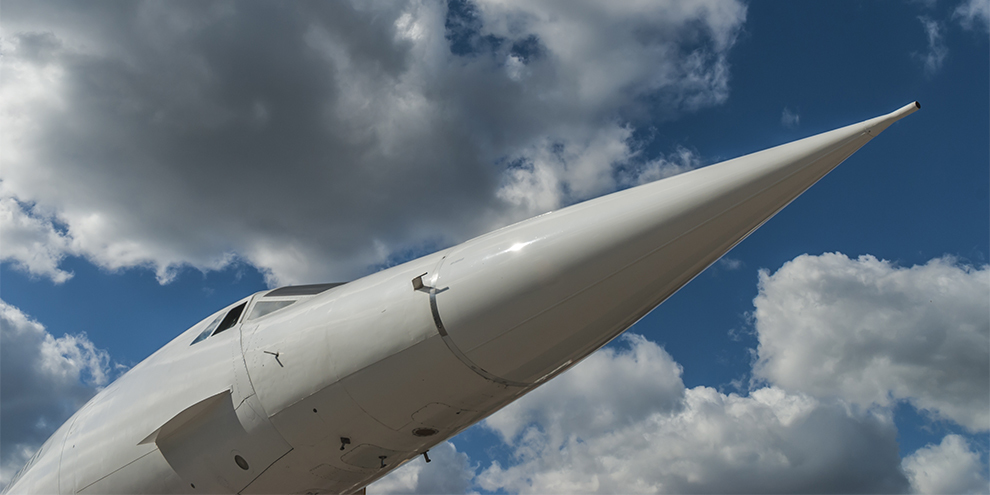 The potential return of the Concorde was undoubtedly one of 2015's biggest aviation stories.
Those swept-back wings and the signature nose-cone symbolised the ultimate in speed and luxury travel while the plane was in service across the Atlantic between 1976 and 2003. So when a group called Club Concorde International announced in July last year that they'd secured a £40 million windfall to display two jets on platforms in the River Thames in London and the River Seine in Paris, there was much excitement about the return of supersonic travel.
That same group hopes to add to what they already say is a £120 million fund designed to get Concorde off the ground again – and says the idea of displaying the jets in two prominent locations would help raise even more money to make the project viable.
So to celebrate the return of one of the world's most loved planes, here's our top-10 list of Concorde facts:
1. Of the 20 Concorde planes built only 14 were ever in active use (the other six were used for testing) – seven were employed by British Airways and seven by Air France. The cost of developing and building the planes was not a commercial agreement between the companies – rather part of an international treaty between the countries.
2. British Prime Minister Harold Macmillan originally removed the final "e" from the name of the British version of the plane to make it seem more English after falling out with France's leader Charles de Gaulle. The "e" was put back again by the UK's Minister for Technology, Tony Benn.
3. Although the Concorde flew commercially from London Heathrow and Paris Charles de Gaulle airports to New York JFK, Washington Dulles and Barbados, the first test flights were Paris to Rio (March 2, 1969) and London Heathrow to Bahrain (April 9, 1969).
4. The Concorde flew at more than twice the speed of sound or Mach 2 (around 2400kmh). The aircraft's fastest New York to London journey was 2hrs 54min and 45secs on January 1, 1983.
5. Concorde flew at an altitude of between 15,240m and 16,900m (although it could go as high as nearly 18,300m) meaning passengers could see the curvature of the earth.
6. Because of the heat generated by travelling at such high speeds, Concorde's frame expanded and stretched up to 20cm during flights meaning that paint and carpets had to be specially designed.
7. Although there was no in-flight entertainment on board a Concorde, passengers did get to feast on gourmet meals served on Wedgewood crockery and drink fine Champagne. Mind you, tickets from London to New York typically cost the equivalent of $US9000 at today's conversion rates.
8. Concorde's wingspan was just 25.5m – less than half that of a Boeing 747.
9. Concorde used up a tonne of fuel to reach takeoff speed, and that prominent nose-cone was modified to lower slightly so pilots could see the runway when coming in to land.
10. When Concorde left service in 2003, British Airways retired the flight numbers BA001 and BA004, which had been for the London to New York return route.
---
Continue reading recent APX Blog posts:

Onboard Air New Zealand's Inaugural Flight to Houston 
11 Tips to Beat Jet Lag Like a Pro 
10 Ways to Stay In Business Mode While Flying
How to Ensure You Get Off Your Flight Ready For Business
6 Tips for Spending Less on Business Travel


For information about APX Travel Management's services visit 'What We Do' on our website.
For new business enquiries, contact APX Head of Business Development Garrick Loft by emailing Garrick.Loft@apx.co.nz