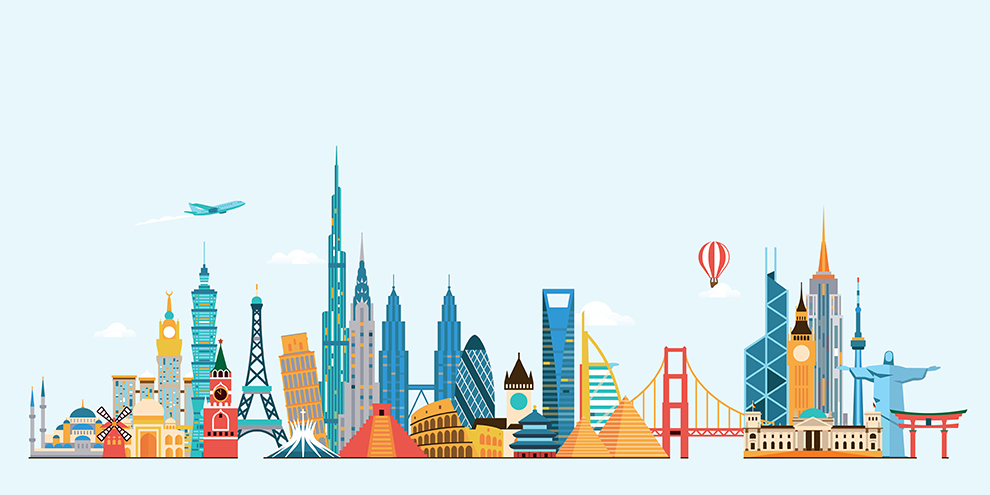 For the average business traveller, fortnightly trips to Wellington or monthly hops over the Tasman can feel like frequent travel. However there are some jet setters who live and breathe the travelling life for the majority of the year. From bloggers to billionaires and salesmen to cabin crew, these road warriors know their way around a check-in desk and in-flight entertainment system as well as you know the contents of your fridge.
Here are just a few of their stories – and some of their words of wisdom to help you make the most of your air travel.
The salesman
Tom Stuker, a US businessman, has travelled more than 17 million miles in the sky – all with United Airlines – for his job training his sales technique to car dealerships as far afield as Europe, Asia and Australia.
He made headlines in 2012 when he clocked up a million miles in a year but, according to a recent interview, he has not slowed down since and has added another 4 million miles in the past four years.
The bonuses for sticking to one airline are clear in Tom's case: they get to know you and you find yourself enjoying a few more creature comforts such as golf cart rides through the airport, new tickets and flight arrangements if he misses connections, even the odd luxury car service direct to the plane.
And some of the other things he's enjoyed thanks to all those hours in the air? Well, United Airlines painted his name on the side of a 777 and he even managed to trade some of his air points for a walk-on role in Seinfeld.
The record-holder
Fred Finn is British-born but now lives most of the time in Ukraine. He has been listed as having the Guinness World Record for both the most Concorde flights and the largest total distance flown as a passenger.
The majority of his 718 supersonic flights came about because he was commuting between London and New Jersey for four years – but he's made the trans-Atlantic trip more than 2000 times including three times in a day.
Last year, the then 74-year-old told The Huffington Post that he'd visited 150 countries, flown 16 million miles and at one stage had three passports so he could fit all his valid visa stamps.
Once upon a time, Fred was a straightforward businessman working for a large US company but his regular long-haul commutes sparked interest in his insider knowledge of the air industry and, he says, he became an advisor to airlines, hotel groups and other companies about what travellers require. He's even a regular contributor to TripAdvisor where he has 43,000 people following his well-travelled tips.
So what's his secret to enjoying world travel? Well, Fred says that to really visit a country you've got to get stuck in. "Every country I've been to," he told Huff Post, "I've actually either worked in or stayed there. I think layovers in airports are hardly business in the country. You've got to go out into the county and see it to say that you've been there."
The blogger
The blogosphere is full of folk cashing in on their tips and tricks for all sorts of things – from fashion to football. But few people get as much mileage – in terms of both distance and perks – than those bloggers who write about travel.
Brian Kelly has become something of a celebrity traveller by becoming The Points Guy and then turning himself into a brand to explain how to make the most of loyalty points and air miles – all while enjoying the trappings of some of the world's best holiday locations, airline lounges and seriously cool business and first-class seats.
Brian learned to maximise his air miles as a kid when he started charging his family to make their travel bookings. At one stage he was earning $US65,000 in HR but redeeming more money on air miles! He once flew Cathay Pacific first class from Ho Chi Minh to New York for slightly more than $60 (and 67,500 air miles) and earlier this year saved himself more than $5000 when he scored a non-stop New York to Ghana business class ticket for less than $10.
Of course his advice is mostly about making the most of credit card and airlines rewards points but he also has some good tips for frequent travellers including purchasing high quality noise-cancelling headphones and bringing at least $150 in cash when travelling just in case those cards don't work when you reach your destination.
---
Speak to APX today to discuss how we can streamline your corporate travel programme. Contact APX Head of Business Development Garrick Loft by emailing Garrick.Loft@apx.co.nz.
---
Continue reading recent APX Blog posts
Q1 2016 Market Update with APX Chief Executive Andrew Dale
11 Tips to Beat Jet Lag Like a Pro 
10 Ways to Stay In Business Mode While Flying
How to Ensure You Get Off Your Flight Ready For Business