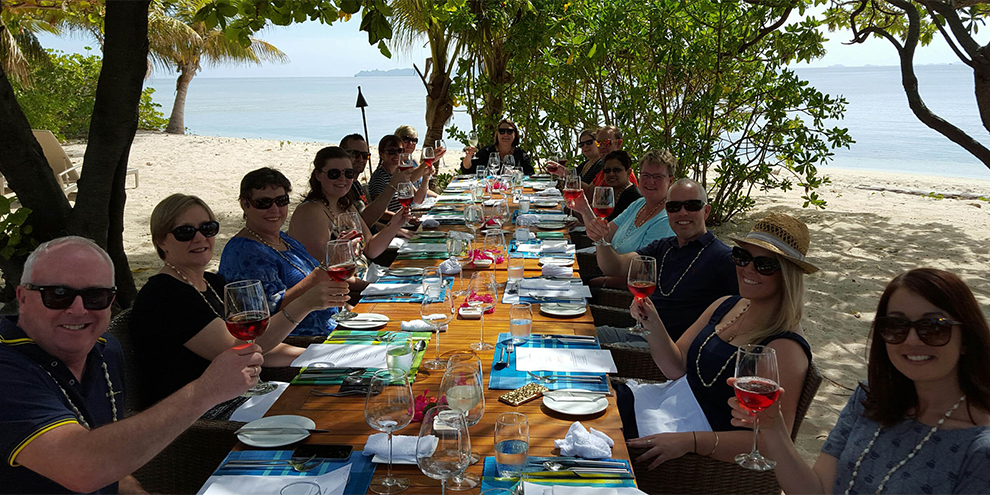 APX Travel Management's 10 "Ambassadors" are staff who are chosen by their peers for their hard work, dedication and demonstrating the APX values of Excellence, Teamwork, Fun, Positivity, Conversation and Passion. This year they were rewarded with a short break to Fiji, including a day trip to the luxury Vomo Island Resort in Fiji.
Because they earned their mid-winter tropical holiday by impressing their colleagues, we thought we'd ask them a few questions.
Here's Part 2 in our interview series with APX's 2015 Ambassadors. You can also read Part 1 in a recent blog post.
Sharon Chandra
Sharon has worked for APX as an international long-haul consultant for nearly eight years, after changing careers from being a secondary school teacher and training in travel.
She says she thinks her colleagues voted for her because she is always on hand to help with day-to-day advice about anything from fares to invoices.
"I've been here a long time so I know things inside-out – it means I'm able to help others in the team," she says.
"But after I got the phone call to say I was chosen, it was very unexpected. I was blown away."
Sharon has challenged herself to hone her customer service skills to meet the needs of a broad range of travellers and travel arrangers. Sometime this includes those that don't understand why they should be using a corporate travel agency and would prefer to book through their own travel agent or the internet.
"My challenge on a day-to-day basis is to turn them around and I measure my success by them coming back to me. And for some of them I've been looking after their travel for eight years – so it must be working," she says.
"When they do come to me and they're unhappy with something it's hard, but you have to try not to take it personally and just empathise and listen to them – it's about finding a solution together".
Sharon's favourite destination so far has been Italy 10 years ago, where she soaked up the food and culture (and the shopping in Rome!) and fell in love with the Chianti region in Tuscany with its beautiful villages and castles.
But when it comes to dream destination she's keen to go on a "five-star" African safari with husband Anil. "Africa is just so very diverse and very different."
Natasha Baldwin
Team manager Natasha leads a group of long-haul and short-haul travel consultants in Auckland and will have been part of APX for nine years in January.
She believes she was chosen as an APX Ambassador because of the support she gives members of her team and her willingness to help out.
"It was exciting – and it was an honour to be chosen to go to Fiji. There's nothing like getting away to a tropical place when it's not so tropical here!"
The most challenging aspect of her role is juggling staffing around annual leave and illness – especially because of the pressure that comes from the last-minute nature of many travel bookings.
"It's really important that our clients are well looked after," she says.
Natasha says the way she combats these sorts of issues is her own willingness to pitch in and shoulder some of the workload – "I'll spread it around so no one person is under a mountain of pressure."
Her two best travel destinations were going to Italy when her sister got married in Sorrento, and then travelling on for a week in Sardinia and a seven-night cruise along the Croatian coast 10 years ago.
But when it comes to dream destinations, Natasha is keen to return to Florida where she spent her honeymoon with husband Mark and then visit the Caribbean: "I tend to like tropical holidays, really," she says.
Suzanne Cunneen
Suzanne had been a short-haul travel consultant in Christchurch with APX for almost five years when in February this year she stepped into a team manager's role. Having trained as a travel consultant in a building opposite the APX office, she always knew about the company and says it was a "no-brainer" when she was offered a job.
She thinks her election as an Ambassador comes from her colleagues turning to her for leadership during a period in which there had been significant change in the office. "But I was very happy to know that my work was appreciated," she added.
Her biggest challenge has been moving from being a co-colleague to a manager among people she'd worked with for a number of years.
"I wondered whether they were really going to listen to me. But I backed myself a bit more and was confident in the decisions I was making because I realised I was the final step in the process," Suzanne says.
Her favourite travel destination was to Phuket in Thailand last year – the first tick off a list of three places she's wanted to visit since learning about Thailand, Italy and New York in high school.
"From what I learned, I've always wanted to go to those three places. Italy has all the historic landmarks and culture and New York, well why wouldn't you want to go?"
And although she's likely to take her partner to Italy, Suzanne says she'll leave the kids at home with him when she goes to New York with her sister.
"He hasn't really caught the travel bug but my sister has. She's been to California and Las Vegas but didn't get to New York so that will hopefully be our next trip."
---
Recent APX blog posts:
Read Part 1 of our APX Ambassador blog series
10 Ways To Stay In Business Mode While Flying
How to Ensure You Get Off Your Flight Ready For Business