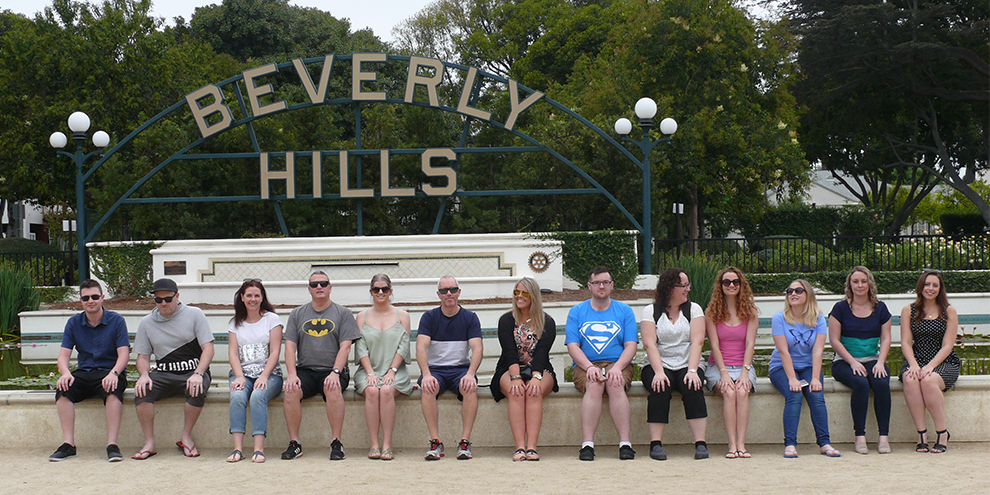 The APX values – Excellence, Teamwork, Fun, Positivity, Conversation and Passion – shape the experience that business travellers and travel arrangers can expect when they book travel with us. 
To recognise their achievements, this year's Ambassadors were taken on an all-expenses paid trip to Los Angeles where they enjoyed the variety the city has to offer – from the noise and colour of a LA Dodgers baseball game and the glitz and glamour of Hollywood, to the thrills of Disneyland and the beachfront charm of Santa Monica. This year's trip was generously supported by Air New Zealand and Amadeus.
And now they're back, we thought it was a good time to catch up with them to learn how they strive for and achieve excellence in corporate travel management and to get a few travel tips for visiting the City of Angels.
Paul Moir
Paul has been in the travel industry for 20 years and has been based in Wellington with APX for the past 12, during which time he has been a long-haul travel consultant for one of APX's key clients.
He said it was "extremely humbling" to be chosen to be part of APX's Ambassador programme as it wasn't something he had considered during his day-to-day work, but was pleased to be recognised by his colleagues. 
"I've worked on client accounts previously who have, say, a head office in Singapore and so you're just booking Wellington to Singapore all the time, whereas with my client they can be travelling anywhere on the globe so it's quite interesting – you're certainly not concentrating on the one destination all the time," says Paul.
Over his years in the industry, Paul says technology has helped to make both travel consultants' and their clients' lives easier – especially through the online distribution of documents and tickets – and features such as APX Traveller Security which helps organisations monitor the safety and security of their staff anywhere in the world. "In recent years with earthquakes and ash clouds disrupting travel, and after seeing a number of clients who have been contacted to ask if they need assistance after something's happened in the city they've been in, I think people realise that when they need to use it, this technology can be very reassuring."
When it comes to his own personal travel, Paul enjoys a variety of destinations: the UK for history and architecture, the US for its "grand size and huge contrasts", Canada because it's clean, green and laid-back – a little like New Zealand, and, on the odd occasion, the islands for "doing nothing." "I love Asia for the difference – next year I'm going to Vietnam, Cambodia and Laos for the first time and am really looking forward to seeing something completely different."
When it comes to his top tip for getting around Los Angeles, Paul is sold on Uber. "For the corporate traveller it's a great way to get around this city," he says. "The wide variety of characters you get in the driver's seat gives you a true sense of the locals – some had me in tears laughing!"
Michelle Farmer
Michelle has been in the travel industry for only 18 months but has already started to make waves – as well as being chosen by her colleagues at APX for the 2016 Ambassadors programme the 24-year-old short-haul travel consultant was shortlisted for this year's TAANZ National Travel Industry Awards "Rookie of the Year" title.
"This is my first role in the travel industry – I came to APX straight out of Sir George Seymour National College of Tourism and Travel," she says. "It was amazing to become an Ambassador, I almost cried I was so happy."
Michelle says her strengths are being able to work well in a team and to have both clients and colleagues trust her despite being new to the industry.
"My biggest challenge so far has been transferring to a new technology system – and every day can be a challenge because there's always something new, but I've managed to build such good relationships with my colleagues and clients that it makes the days go by quite easily."
She says that although Melbourne is her favourite destination ("It's so down-to-earth and easy to get around"), she decided to work in travel after visiting the UK and Europe and realising that she wanted to help others get the same experience.
"I like to plan in advance because I get really nervous when I travel somewhere with nothing organised," she says. "When people travel normally it can be very disorganised and they don't really know where to go, whereas in business travel everyone has got their mind set on where they need to be and their budgets and I find that really good because I work really well with structure."
And when it comes to travelling in Los Angeles, Michelle's advice is to be prepared. "You need to pre-plan everything – especially tours – because a lot of things get booked up early and finding them on your own, on the day is very hard."
Aimee Donovan
Aimee has been a team manager of travel consultants for a key client for the past three months, after moving back to Auckland from a three-and-a-half-year stint living in Melbourne. But before her trans-Tasman trip she had also worked on the same account for the previous six years.
She says she was surprised when she received the Ambassador accolade but it was a good feeling to know that her colleagues recognised the hard work she put into the role – especially the new challenge of managing people.
"My role can be quite challenging and that's what keeps me satisfied," she says. "There's always something new and it's never straightforward. I enjoy being a manager and still dealing with long-haul travel".
Having already been to Los Angeles before the Ambassadors' visit, Aimee's best advice is to devote a whole week to Disneyland because there's so much to do – and, like everyone else, she's heartily in favour of Uber. "Just use it – we're all really impressed by Uber."