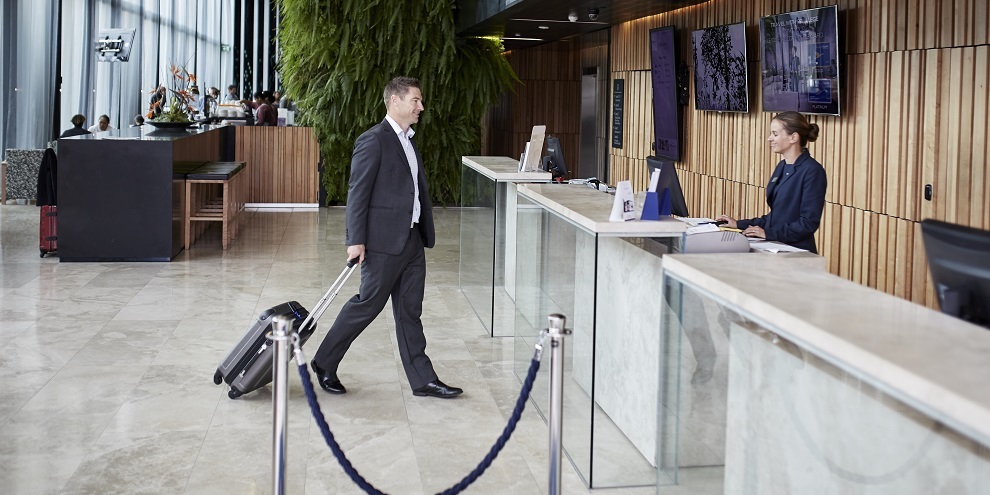 Choosing a hotel isn't as simple as finding the cheapest option in the vicinity of whatever client, convention or training the travel has been organised for. There are plenty of variables at play to make sure you get both value for money and any potential savings on your accommodation.
Have a strict travel policy
Whether a business is an SME or a large multi-national, a well-devised business travel policy will cut down on unnecessary overspend on hotels and provide a level playing field for all travel. Having an upper spend limit and minimum requirements mean you can create accurate forecasts, and avoid missing out on potential travel late in the financial year because the budget won't allow for it. Travel can cost a business a large chunk of its overall spend and it's important that it's done wisely to maximise potential returns.
Choose your dates wisely
For any business travel booker or manager needing to book accommodation in New Zealand this year, the importance of choosing when to travel should be blindingly obvious. Major events such as the British and Irish Lions rugby tour – not to mention the spike in tourism numbers – have created a shortfall in the number of hotel rooms available for business travellers and a corresponding hike in prices during peak periods. Business travel needs to be strategically planned to consider major events and peak tourism seasons – which means companies ought to consider holding events such as board meetings or training sessions outside of these high-tariff periods. Hotel rates will also fluctuate over the course of a week depending on season, demand and location – it makes sense to weigh up your options of when you need to travel before deciding on the hotel.
Book as early as possible
Too many businesses leave their travel booking until the last minute and miss out on savings for both travel and accommodation. It simply isn't worth waiting until the 11th hour and hoping you're going to get a deal only to miss out and have to pay top-dollar for a suite. A far better option – and the only way to run a successful travel policy – is to set your travel calendar as early as possible and use an APX online booking tool in conjunction with travel consultants to make reservations as soon as possible.
Be loyal
Knowing that a majority of your clients or branch offices are in places served by a single hotel chain gives you the chance to maximise savings bought about by loyalty programmes. Using a single brand also allows you to standardise accommodation levels, ensure you conform to compliance issues, and guarantee levels of service.. If a company needs to organise conference rooms, meeting rooms or any other extras away from its usual headquarters, having an ongoing relationship with a hotel group also means you have more bargaining power.
Location can be more important than price
The cheapest hotel rate isn't the same as the cheapest accommodation option. If travellers have to use hire cars, Uber, taxis or public transport throughout their stay, the overall cost of the business travel is likely to skyrocket. APX is dedicated to overseeing the total cost of travel which includes incidentals such as daily transport and airport transfers – and knowing where accommodation is in relation to where the traveller needs to be can play a role in maximising savings.
Know what you're getting
Additional costs for transfers, parking, breakfasts, Wi-Fi, laundry etc. – even cancellation fees – all need to be added into the total cost of business travel. Higher room rates may come with the sort of benefits that a business traveller can't do without and which may cost more in the longer term to pay for separately.
Explore the benefits of 'bleisure' travel
One of the buzzwords in recent years, 'bleisure' is the combination of business and leisure travel, with some research pointing to the benefits of being able to mix downtime with work. The primary reason for any corporate travel has to be positive ROI but there is a lot to be said for developing a positive workplace culture for choosing an itinerary and accommodation that allows for mental and physical downtime.
KEY TAKE-HOME ADVICE
Develop and adhere to a strict travel policy that's fair to all employees and allows for maximum ROI for each trip undertaken.
Keep a firm lock on your travel calendar and make use of expert travel consultants to watch out for peak tariff times and booking early enough to guarantee best prices.
Know what you're getting from your accommodation provider both in terms of helping your business traveller succeed on their trip and in how that offers value for money.