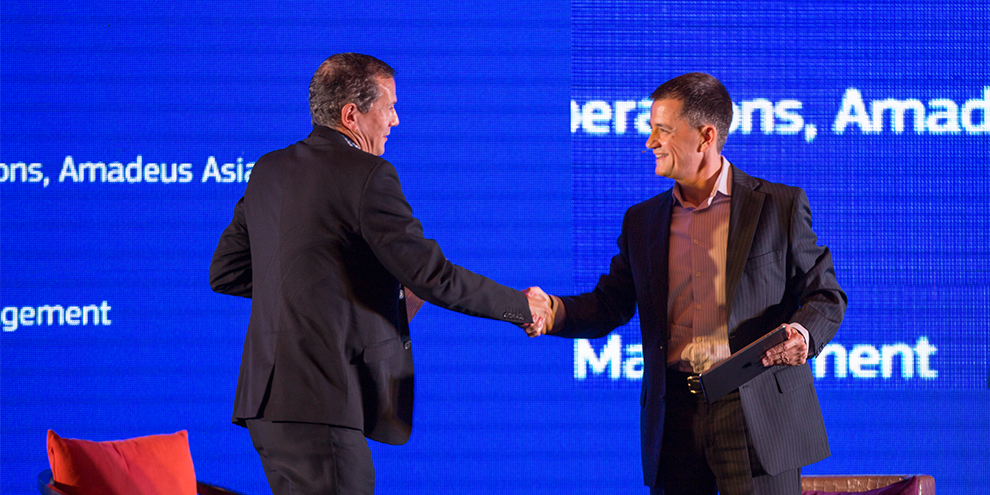 The pace of innovation and change in the world of corporate travel means that APX Travel Management has to remain ahead of the game when it comes to technology and innovative problem solving.
Business travellers and their companies naturally expect that expense management, logistics, policy and compliance will be major priorities for their Travel Management Company, but, more and more, we are finding that we have the ability to shape and benefit the entire travel experience.
APX Head of Product & Innovation Andrew Barnard has just returned from the Amadeus Asia Pacific Managed Travel 3.0 conference in Chiang Mai, Thailand, where global industry leaders discussed how innovation, collaboration and cutting-edge technology can create a new frontier for TMCs and a new, enhanced experience for business travellers.
APX already prides itself on going the extra mile for our clients: offering a seamless 24/7 service for business travellers and providing proactive advice for negotiation, planning and travel. So it was Andrew's role at the conference to speak to the topic "Voice of the customer: Success stories from collaborative innovation" alongside Amadeus Asia Pacific's Vice President, Distribution, Products and Operations, Frederic Barou.
Andrew told the conference that innovations such as smart watches had revolutionised travel for business travellers by "enhancing your life in many real-world situations such as with traffic alerts, flight delays, gates changes and the ability to respond to SMS and email by voice commands" and that APX was focused on innovation which appeals directly to the customer.
"It sounds obvious, but the real focus is on the customer. You can have the most innovative solution in the world, but if customers don't appreciate it or see a need for it (or, ultimately, buy it), then it will not be successful."
He said he was particularly proud of APX's innovative use of technology to provide both choice and an enhanced experience for customers.
"APX is unique in our market by offering a variety of online booking tools so that we can support our customers' internal business processes and any global mandates. Our mid-office solution powered by Amadeus enables touchless bookings to be achieved across any online booking tool so that we can focus our attention on the customer experience. Customers are free to choose their preferred online booking tool while still enjoying the benefits of our highly efficient processing systems and robotics."
As well as "outside factors" such as changes to travel services by key suppliers, the main drivers for innovation at APX come directly from the customer via APX's Partnership Managers; feedback and ideas are actively shared and the company then works hard to develop and enhance its systems and technology.
"The customer is the reason that we do what we do. Every innovation – even if wholly internal – needs to enhance the customer experience," Andrew told the conference.
"The most noticeable change in the innovation process over time is that it has sped up. Change is much more rapid today than in the past. This along with more sophisticated requirements from customers and increased choice, means that organisations such as APX need to be more responsive."
"And the secret to staying ahead of the competition is to work collaboratively with technology partners to help "challenge our own assumptions and keep the focus on customer requirement".
"APX has a strong record in innovative technology and partners with best in class providers to assist us in achieving our goals," Andrew said. "Rather than rely solely on in-house expertise, APX prefers to maintain a mix of highly skilled internal resources coupled with external providers. The key to maintaining a competitive edge is knowing which parts of the solution can be out-sourced, and which need to be managed in-house."
Andrew told the conference that innovation is all about choice – specifically for the customer – and that 2016 will see APX focus on using Amadeus products, mobile and "more intuitive ways" of facilitating customer interaction with APX to enhance their service.
"The key across the board in corporate travel is responsiveness – via whichever channel the customer chooses to use."
And as for the future? Andrew highlighted the importance of an individual's entire travel experience as the area most ripe for innovation in business travel.
"Presenting real-time, personalised information specific to an actual problem offers a unique opportunity to enhance the travel experience."
"An example of this is intelligent scanning of traffic with advice about when to depart for the airport in order to catch a flight. The key to these new services being successful is the adoption by travellers, some of whom may still be resistant to the use of technology. The future is personalisation across the entire journey."