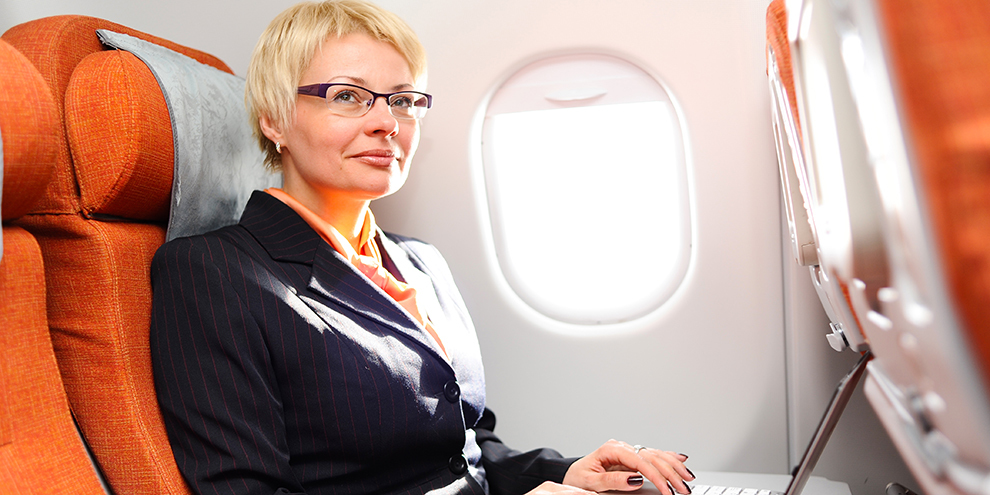 As a business traveller it's important that you can trust your travel management company and personal travel arranger to ensure your itinerary flows seamlessly, so you waste as little time as possible getting from A to B.
But even with the best of itineraries, it's inevitable that you'll have some time on your hands. So here's our guide to remaining productive on the move.

1. Enjoy downtime that gives back: First and foremost, while travelling it is essential to take time to rest and relax if you need it. Investing in yourself and your energy will pay dividends in productivity on arrival – but the key is to draw a line between revitalising downtime and lost time.

2. Be airport smart: Check out our time-saving tips for domestic check-in to make domestic travel a breeze. There are also plenty of additional ways to ensure you don't waste unnecessary time travelling to and getting through the airport. Before you leave home keep up-to-speed on flight delays and cancellations by downloading a travel itinerary app such as CheckMyTrip by Amadeus to your smartphone. Ahead of time, check out parking availability and valet options at the airport, pack only what you need (checking in and collecting luggage adds time to your journey) and keep your travel documents somewhere that's quick and easy to access.
3. Prepare for productivity: Putting your devices in airplane mode will help save power but remember to have your chargers handy for stop-overs. Wi-Fi in the air is both expensive and notoriously patchy, so don't count on it. While you're in the air, make sure you've got offline access to all the documents you need. Have some reading on you for take-off and landing when you won't be able to use your electronic devices. If you can, travel with a thin notepad or e-reader rather than a heavy laptop which may not fit easily on the tray table.
4. Choose your seat with care: If you're aiming to get work done while you're in the air, lessen the chance of interruptions by booking a seat where people won't be climbing over you to get to the bathroom. Keep what you need easily accessible by preparing a small folder or case with all of your work documents and gear prior to the flight. You can quickly pull this out before stashing your carry-on luggage in the overhead locker when boarding.
5. Plan tasks according to your travel time: How often do you find yourself with five uninterrupted hours in the office? If, say, you're flying from Auckland to Adelaide, that's the sort of useful time you're going to have available. So, rather than using it up with mundane admin tasks, why not devote it to strategic thinking?
6. Be deliberate: It's easy to become distracted while you're travelling, so it will help your productivity to arrange your time in advance. Create a list of priorities and jobs you want to accomplish and then block them out for specific amounts of time. And remember to include breaks in that schedule – getting up and taking a walk around the plane or taking time to rest and relax will help you stay alert and healthy during a long flight. Not to mention making it more enjoyable!
7. Stay healthy in the air: We've shared our tips for staying healthy and energised on flights in a recent blog post. The most important tip we shared is staying hydrated throughout your journey – by drinking plenty of water at all stages of the trip and ensuring any alcoholic and caffeinated drinks are either avoided or accompanied by the same volume of water. Boosting your immune system before flying with Vitamin C and other supplements (as approved by your health specialist) will help to ensure you arrive in great form.
8. Connect when you arrive: Ensure you have downloaded useful apps in advance such as an itinerary app, maps, a translator and currency converter so that you can quickly and easily navigate your way on arrival.  
9. Stay part of your team: While you're on the move, let those back at the office know what you aim to achieve while you're away and check in with them when you can during stop-overs or when you arrive. This will help to ensure things are under control when you return, and will empower your team to get work done in your absence. It will also go a long way to nurturing a great working relationship.
10. Arrive early: If you're travelling long haul, try to arrive ahead of time and work from your hotel for a day while you acclimatise (with breaks to explore your destination and get some exercise). Giving yourself time to recover after a long-haul trip will allow you to re-energise, catch up on correspondence and prepare for your meetings so your trip can be more effective.
---
For information about APX Travel Management's services visit 'What We Do' on our website.
For new business enquiries, contact APX Head of Business Development Garrick Loft by emailing Garrick.Loft@apx.co.nz