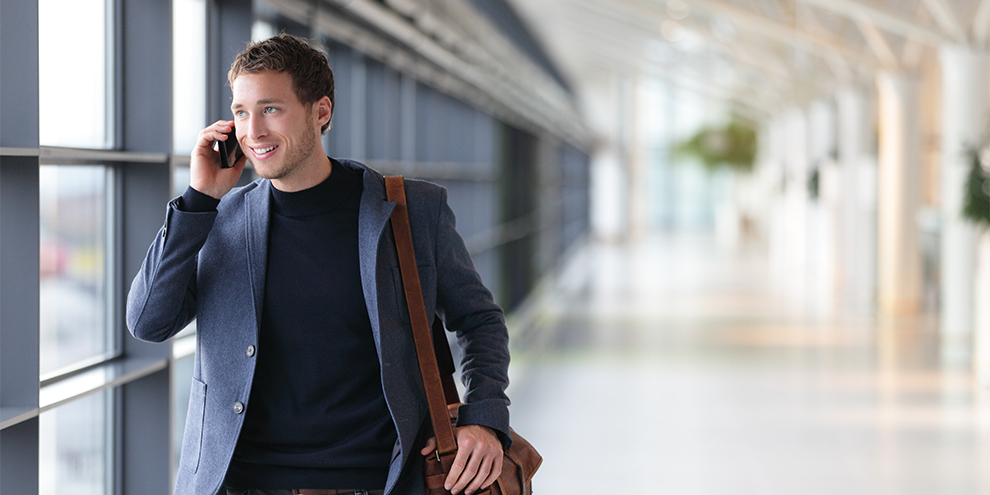 Walking through any major airport, it's easy to spot those who travel for work frequently. Striding purposely through the terminal, they radiate a sense of confidence that they have timed things just right. Calm and centred, these road warriors can seem like an enigma to first-time business travellers.
However the reality is that travel can be a stressful experience. With the potential for traffic on the way to the airport, parking issues, flight delays, lines at security, the quirks of air travel itself and then arriving in an unfamiliar destination, there are many opportunities for a simple business trip to cause headaches.
To make life easier, having a great travel management company with 24/7 traveller support is essential. But there are also some business travel hacks that can transform your experience.
Here are 5 common mistakes first-time business travellers make, with our tips for seamless travel.
1.   Taking the cheapest fare when it's not the best option
With budgets and corporate travel policies to comply with, it often makes sense to book the cheapest airfare on offer. And in many cases, this is the best course of action.
However there are instances in which it makes sense to select a different fare type. In particular, for domestic and trans-Tasman travel, a flexible fare costs more up front but can pay off if there is real potential for your schedule to change. Having a flexi-time ticket can give you peace of mind that you won't miss your flight – costing your company money.
Also consider the bigger picture. You may pay more for early morning and late evening flights, but if it saves you the cost of a hotel for the night, your total travel bill may come in under the alternative option.
2.   Maintaining a traditional work mind-set
If you're heading abroad or your trip is overnight, it's important that you have all the tools you need on hand to remain productive and to feel comfortable while away from home. It's time to forget the work-from-your desk mentality and adopt a mobile mind-set.
A light laptop or tablet with a keyboard is a must as is your mobile phone, naturally. Ensure you know your company's policy on data roaming if you're heading abroad, and don't forget to pack your chargers and adaptors. Also think about printing any documents you'd like to read on the plane or that are essential, should your internet connectivity fail.
Make use of cloud-based document storage options such as Google Drive or Dropbox for non-sensitive documents and ensure your passwords are memorised or noted down for any of your company's systems that you may need to access online while you're away.
A travel itinerary app such as CheckMyTrip or TripCase will provide you with one place to reference all the details of your itinerary – from flights to your rental car.
Also consider downloading the apps for your preferred airlines. The Air New Zealand Mobile App for example offers great functionality such as the ability to change flights direct from the app, a mobile boarding pass and notifications about your flight.
Other handy apps to consider include Google Maps, currency converters and of course Uber which is growing exponentially around the globe.
In the evenings, hotel rooms can sometimes feel impersonal. If you're away for several nights, consider loading your favourite music onto a device so you can play it in the background. Bring a couple of other home comforts if you have space – whether it's a novel or your favourite herbal tea. And if the neighbourhood of your hotel is safe in the evening, it's worth making an effort to get out and about to explore.
3.   Failing to plan for productivity
Frequent business travellers are used to working away from their office and will take every opportunity to catch up on emails or review documents.
In the airport getting through security early and finding a comfy spot to work – whether in a lounge or an airport café – is a great way to minimise the wasted wait time before your flight.
On board, while you may not be able to connect to Wi-Fi, you can review offline documents and prepare responses for emails, ready to send once you arrive at your destination. Ensure you have these documents to hand when you take your seat.
For longer flights, allowing time to rest and relax is essential, however scheduling in a few work tasks means you can get them done, then sit back and watch that film or get some sleep.
4.   Arriving less than fresh
In reality, few of us step off a long-haul flight feeling revitalised, however there are ways to maximise your energy on arrival.
Exercising before your flight is a great way to burn off energy so you sleep well, and give your body a boost before the demands of travel.
One of the biggest factors once on board is drinking enough water. Air in a plane cabin is very dry and can leave you in a state of dehydration on arrival. Focus on drinking plenty of water leading up to your flight, then do your best on board to stay hydrated. Saying no to caffeinated and alcoholic drinks will help, however if you decide to indulge simply request a glass of water to go with your beverage.
Eating virtuously can also help. Airline food has improved in recent years, but is designed more for taste than nutrition. Pack some of your own healthy snacks to replace or complement airline meals – examples include cut vegetables, salt-free nuts and fresh fruit. Remember though that if you're travelling abroad you can't bring food into the country with you.
Plan for rest and relaxation during your journey. If you're not fortunate enough to be in business class, ensure you have packed a sleep kit that you can access easily with an eye mask, ear plugs or noise-cancelling headphones, an inflatable pillow and an extra layer to put on in case you get cold. 
5.   Over-indulging and paying the price
Business travel often involves meals out, evening drinks and late nights. But savvy travellers know that these things can have an impact in coming days, especially when combined with air travel.
Choosing nourishing meal options during your trip, keeping alcohol consumption to a low or moderate level, getting to bed at a reasonable hour and taking time to exercise – especially in the fresh air – can make a huge difference to how you feel during your trip and when you get home.

Take care of yourself and you'll be more productive and enjoy your trip all the more.
---
For new business enquiries, contact APX Head of Business Development Garrick Loft by emailing Garrick.Loft@apx.co.nz.
---
Continue reading recent APX Blog posts:
Q1 2016 Market Update with APX Chief Executive Andrew Dale
Is Your Organisation Proactively Managing Risk to Corporate Travellers?
Onboard Air New Zealand's Inaugural Flight to Houston 
11 Tips to Beat Jet Lag Like a Pro 
10 Ways to Stay In Business Mode While Flying
How to Ensure You Get Off Your Flight Ready For Business